8 Houston Physician Specialists Recognized with Top Doctors Award
The My Houston Surgeons (MHS)  surgeons win Top Doctors Award.
My Houston Surgeons, a highly-experienced and respected cosmetic, reconstructive and sinus practice in Houston, proudly announces that all eight of its physicians have been awarded H Texas magazine's 2017 Top Doctors Award.
This prestigious Top Doctors Award recognizes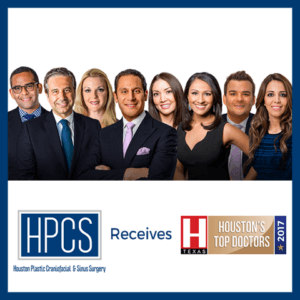 outstanding physicians demonstrating clinical excellence while delivering the highest standards of patient care. Recipients are nominated by peers, patients, and H Texas magazine readers.
Although Houston contains the world's largest concentration of medical institutions, only a small percentage of healthcare professionals can be named Top Doctors. MHS is comprised of experienced and compassionate surgeons ranging from board-certified and board-eligible plastic surgeons to fellowship-trained specialists, specializing in a diverse range of fields. The surgeon team is led by Dr. Sean Boutros and includes Dr. Samer Fakhri, Dr. Erika Sato, Dr. Rukmini "Vinaya" Rednam, Dr. Arjuna Kuperan, Dr. Scott Reis, Dr. Regina Rodman and Dr. Sanaz Harirchian.
The state-of-the-art medical practice provides patients with advanced treatments in some of the most complex, sophisticated fields of medicine.  At MHS, every patient is treated with the same amount of detail, focus, and care ensuring the best possible outcomes: from breathtaking cosmetic and aesthetic services to life-transforming complex sinus surgeries and cutting-edge breast reconstructions after cancer.
For over a decade, MHS has treated patients from 6 continents, 45 countries, and 43 states. MHS currently has two convenient locations in Memorial and The Woodlands. Their eight elite specialists are renowned for their expertise in simple and complex procedures that are all performed in their state-of-the-art technology forward facility.
To learn more about MHS' diverse surgical team, view their inspiring before and after results, and hear their glowing patient testimonials. If you are interested in booking a consultation with one of MHS's specialists, we invite you to call 713-791-0700 or visit them online at myhoustonsurgeons.com.