Wonderful experience! As a medical professional myself, I'm always hyper-aware of my own medical experiences. This was the best! Dr Kuperan I truly felt had my best interests at heart and recommended procedures that will be life changing for me. His nurse Abby was so great! She was thorough and kind and made me feel comfortable for the preop. The anesthesiologist was great too- I didn't feel a thing. Would recommend this team for anyone looking for a good ENT!
Leia Jackson Via Google My Business
Following a cancer diagnosis, I researched national options and chose to travel 9 hours to seek care from NYU-trained Dr. Scott Reis. He and Dr. Sean Boutros performed a DIEP Flap reconstruction, following a double mastectomy. BEST decision ever! It is a big surgery, but the results could not be better! My surgery and recovery experience lines up exactly as described on their website. Their innovative approach (surgically and pre-/post-operatively) made a world of difference. Additionally, their nursing and administrative staff are equally well-trained, knowledgeable, professional and above all caring! Everyone I encountered was truly interested in providing a good experience and excellent long-term results. If I were faced with the same decisions today, I would choose to trust Dr. Reis at My Houston Surgeons with my care.
Jana Sharpley Via Google My Business
I recently had a surgery done by Dr. Baylan. He is by far the coolest Dr I have ever met. He did a tremendous job on my surgery. He is so skilled and the vibe he gives off couldn't be beat. The staff at this office are extremely sweet, helpful and uplifting. I'm 27 years old and I've never been to any office that made me feel so at home. I recommend anyone considering plastic surgery to go to Dr.Baylan. I am so happy with my surgery. Thank you to all staff at this office and a bigger thank you to Dr Baylan for changing my life .
Haley Morgan Via Google My Business
Review of lipo/chest aug with Erika Sato: She did an AMAZING job with everything. I'm 100% thrilled with her surgery, with her attentiveness, and her polite observant caring "bedside manner". I can appreciate her relatable experience with surgery and she very, very clearly sets the expectations. You HAVE to remember when you're 40+ your skin doesn't just snap back together after a major surgery. You need to be prepared for every appointment if you're someone who wants explanation; those check up appointments are very quick and if you don't have a list of concerns or questions then it's easy to feel overwhelmed. I personally, don't like to think too hard and need very little explained to me so what worked for me might not work for you but she really did knock everything out of the park! So thrilled!!
Kay See Via Google My Business
So far my experience with Dr. Baylan has been great. He was professional and approachable on my first visit. He listened to all my concerns and asked me questions to make sure I really wanted/needed what I was asking for. The time from appointment to insurance approval was minimal (about 2 weeks). Everyone in the office was extremely nice and helpful ( I called a lot, no one was ever rude.)
Jacqueline Taylor Via Google My Business
Dr. Baylan and his team were great. I had to have reconstruction due to a cancer diagnosis and Dr. Baylan did such a wonderful job. My breasts look better now than they did before. Thank you Dr. Baylan!
Tamara Nicholas Via Google My Business
I'm sure every single surgeon at this practice is amazing, but I myself have only spent time with Dr. Harirchian and Dr. Kuperan—both excellent surgeons with reputable careers and EXCEPTIONAL bed-side manner! They spend enough time going over any questions and concerns, it almost feels like there are no other patients waiting. I don't feel rushed when I come in to see them. All my questions are answered and I feel well-informed when I leave. You won't be disappointed if you come for a consult!
Carolina Haddad Via Google My Business
Dr. Baylan did an excellent job treating my 80 year old mother. She had a severe dog bite wound on her left arm. (2 months of treatment and the wound is completely healed!!) Dr. Baylan is a very compassionate, caring and personable doctor. I told him if I could give him 10 stars I would!!
Judy DaSilva Via Google My Business
My rhinoplasty came out amazing. I was unhappy with my bulbous nose tip, and Dr. Harirchian skillfully reduced its width and length as well as tweaked the slope of my nose. It healed quickly and the scar is nearly unnoticeable. The cost for the rhinoplasty + half the anesthesia and facility fees was $8,790 (with the combination discount). I would easily give my experience with this operation five stars. In addition, the doctor is very intelligent and kind. I have a lot of respect for her job, which seems quite challenging.
Brooke Golla Via Google My Business
I've had a patient that has been to Dr. Boutros several times for different procedures. 👌 Outstanding work and very professional. The staff are beyond friendly and goes above and beyond. 💜
ZEN RECOVERY SA Via Google My Business
My experience with the entire staff, most importantly Dr. Reis, Shawna and Maria, has been nothing less than AMAZING!!!! My husband and I saw Dr. Reis over 2 years ago, when I was looking at having a mommy makeover. During that time we also visited with 3 other Drs to really see what our options were. From the moment we walked in the door the staff treated us as though they had known us for years. Dr. Reis talked with my husband and I, to really get to know us and what we were considering but never pressured us into anything. When it was time for us to commit to the surgery, mid 2022, we knew Dr. Reis was the only option. Every step of the way he treated us with respect, compassion and the most amazing bedside manner. Prior to surgery Dr. Reis and his staff made sure we knew exactly what to expect and all our questions were answered. The day of surgery and those following have been nothing less. The results from surgery and minimal scaring by far passed our expectation. Dr. Reis is a true craftsman in his art, takes such pride in what he does and truly cares for his patients. Maria and Shawna have been equally amazing, quick to respond and most of all caring. By far the best Dr and staff ever.!!!!!
Rebecca Densmore Via Google My Business
Dr. Reis is a great plastic surgeon. His medical assistant Shawna has been a life saver getting back to me after my surgery and helping with all my questions.
Melissa Varner Via Google My Business
From the first day I met Dr. Rednam she had a very positive attitude and had a vision in mind which resulted in the best results for me. She explained the whole procedure to me step by step and always made sure I was comfortable the entire time by answering any concerns I had. The whole entire staff was so nice. They made me feel like I was apart of the family. I'm very happy with my top surgery results! I'm more comfortable than I have ever been!
Kairi George Via Google My Business
I have been getting Botox since 2018 and have not had the amazing experience that I had at the Botox party at Houston surgeons this past evening . Dr Rukmini Rednam and the entire staff at My Houston surgeons, were of outstanding professionalism and courteous to the needs of the patients that were there at the Botox party, I got filler for the first time as well as disport and when I left the filler was instantly working and I look 10 years younger .I would highly recommend this establishment and this doctor if you're looking to have somebody maintain your youthful appearance ,this is definitely the place to be at!
xzavier Silver Via Google My Business
My experience with Dr. Reis and his staff was one of the best healthcare experiences I've ever had. I have been suffering from chronic migraines for 10+ years now. I was looking for a surgeon who could perform an occipital nerve decompression surgery, as I have read this has proven effective for many migraine sufferers. From the moment I called and spoke to Morgan, I knew I had found the right place for me. Morgan was extremely kind and understanding of my situation. She went above and beyond to help me with getting scheduled with Dr. Reis as quickly as possible. When I met Dr. Reis for the first time, our conversation was very casual yet informative. Dr. Reis has great bedside manner and he takes time to listen to you and understand your situation. I eventually had my surgery with Dr. Reis and I am very happy with the results. Although my migraines have not entirely stopped, I have noticed they are not as intense anymore. For someone who has been dealing with chronic migraines for 10 years, that is a win for me. Asaia, the medical assistant for Dr. Reis was also very pleasant and helpful. You can tell the staff are happy to work at this location. Thank you Morgan, Asaia, and of course Dr. Reis for helping me! You guys are what every healthcare clinic should aspire to be.
Syed Hasan Via Google My Business
The entire experience with Dr. Reis was amazing. I had a MOHS procedure under my right right eye and was referred to My Houston Surgeons, Dr. Reis to close the surgical site which ended up being a surgery in which I was put under. I was a nervous wreck but the entire staff made me feel comfortable during and after the process. I am very fair and you cannot even tell I have a scar under my eye. I would highly recommend Dr. Reis as a plastic surgeon and his office for their kindness and professionalism.
Linda Dees Via Google My Business
I came to this office to take care of a number of smaller issues and from the front desk to the surgery coordinator to Dr. Rednam my experience was great. I felt very cared for and my results were excellent. I would recommend My Houston Surgeons to anyone looking for an office that really cares about it's patients.
Floyd martin Via Google My Business
The people at MHS are absolutely wonderful. These are some of the top surgeons in the country and, not surprisingly, their staff are just as fantastic. If you're not sure yet about having a procedure done by these doctors do a little research and compare them to similar surgeons in their field. You'll quickly realize MHS is Houston's best choice for cosmetic procedures.
Kenny Webster Via Google My Business
Dr. Boutros was highly recommend by multiple doctors and friends for rhinoplasty. During my consultation, Dr. Boutros was very professional, patient, and knowledgeable. I recently had my first (ever) cosmetic surgery and my post-op results look incredibly natural. Thank you Dr. Boutros for making me a better version of myself!
Mahdokht Davoodi Via Google My Business
Dr. Reis and his staff are the best I have ever seen. The made me feel like I was the only one who mattered. I highly recommend My Houston Surgeons.
Sandra Avants Via Google My Business
What a wonderful experience for my husband and I. We will recommend Dr. Kuperan to anyone who is looking for a great ENT. My husband has always struggled with sinus problems which we found out was a pretty severely deviated septum from another physician group. The experience with Texas ENT Specialists was AWFUL. I was determined to find someone better who actually cared about their patients and the overall experience. We were so relieved after a consult with Dr. Kuperan at My Houston Surgeons. He was attentive, answered all our questions and addressed any concerns. We both felt extremely confident in choosing him to perform a septoplasty and bi-turbinate reduction. The surgery went great and the recovery was much easier than expected. Overall, wonderful experience that I wish we had done sooner.
Lara Zefeldt Via Google My Business
DR. SEAN BOUTROS! And AMAZING doctor Did my breast reconstruction on 12/10/2020 He such a God gifted surgeon. His work is so amazing. Before we enter the OPERATING ROOM he had pray with me . And I really like him and his staff. What and amazing team .
Lois Potts Via Google My Business
I am a breast cancer survivor. I came to Dr. Boutros in distress from 2 failed reconstruction surgeries performed by another Plastic Surgeon in 2020. Dr. Boutros saved my life and repaired a disaster. Thank you Dr. Boutros you are an Amazing Doctor and I am so grateful may God Bless you abundantly. Also thank you Dr. Riess for reconstruction of my Badly damaged right breast havesting from my leg and skin graft I am also grateful for you and may God bless you abundantly also. And the staff are amazing.
Vanda Guillory Via Google My Business
I had rhinoplasty done about 3 months ago and im absolutely in love with my nose!! I would 100 percent recommend ! the staff is great and dr Harirchian is very attentive and checked on me right after my surgery. I am so thankful for the work they did on me.
Romina Sanchez Via Google My Business
I had a breast augmentation done with Dr. Reis. He truly cares about his patients. He took the time to answer all my questions. Dr. Reis made sure I was okay with the size I picked. The entire time of my visits and treatments Dr. Reis and his staff made me feel like family. I was truly blessed to have a doctor that took great care of me and I love my new breast!
Billie Mask-Moore Via Google My Business
I highly recommend Dr. Scott Reis. He is a perfectionist! This was a difficult surgery for my son and he was fantastic from start to finish. Great office, nurses, receptionist, etc. Can't say enough good things.
Mark Deaguero Via Google My Business
Dr. Rednam and the entire staff at My Houston Surgeons have been the best team of medical professionals I've ever had the pleasure of being treated by. They have been courteous, attentive, and supportive at every turn - and that's (sadly) a rare thing when you're trans! I highly recommend Dr. Rednam and My Houston Surgeons to anyone who's in need of a compassionate, affirming experience.
S. J. Ralston Via Google My Business
My experience with My Houston Surgeons had been nothing less than flawless. Everyone there is extremely attentive and professional from there surgeons to staff. I loved how Asaia was incredibly knowledgeable on other procedures I was curious about. Overall I highly recommend using My Houston Surgeons.
Rob Rodriguez Via Google My Business
I loved the treatment I received by Dr. Sato!
Yolanda Elizondo Via Google My Business
I have been a patient of Dr Rednam's since 2015. She is an amazing and caring surgeon. Dr. Rednam has given me the confidence to wear a 2 piece again, when exercise and diet were never going give me the results I was looking for. I love that any procedure or injection she does leaves you with a natural look. The staff at My Houston Surgeons have always greeted me with a smile and are very personable.
Deborah Thibodeaux Via Google My Business
I had a Rhinoplasty done by Dr. Harirchian over a month ago and although it's still swollen, I can already tell I'm going to love it! I wouldn't have wanted anyone else to do my nose. She is very talented at what she does and makes you feel super comfortable. I had a 12/10 experience with My Houston Surgeons. (:
HeyItsThalia Via Google My Business
I came to my My Houston Surgeons after receiving a diagnosis placing me high risk for breast cancer. The whole staff has been professional and friendly with every encounter. Everything was explained to me clearly and all my questions answered. Dr. Boutros and Dr. Reis worked together on my case and I could not be happier with my experience and results. They are compassionate and kind, with top notch bedside manner, technique, and talent. Going over and beyond, I will always be grateful.
Kristine Mayrena Via Google My Business
My experience here was exactly what I asked for. The office is clean and efficient, and the workers are super lovely! Dr. Sato is extremely factual and helpful, she didn't sugar coat anything and told me everything I needed to know while making sure I was comfortable and thoroughly prepared for the process of surgery.
Alayna Holm Via Google My Business
A great experience for me. Had chronic sinusitis and spent over half of 2019 with cold symptoms. Dr Kuperan offered a second opinion on my treatment options and I valued his thorough approach to reviewing my history, symptoms, and treatment options, so I chose him to perform a sinuplasty, septoplasty, and treat a retention cyst that was noticed in my right maxillary sinus. I will say to those considering these procedures that the first several days were pretty uncomfortable due to the congestion that follows surgery, but once the swelling subsides, I have not been able to breathe this well in decades. Absolutely a life-changing experience. Fixed a major blockage of my right nostril pathway and I can now nasal breathe 100% of the time including during physical training and sleeping. Absolutely priceless outcome and beneficial to living more comfortably, but also so beneficial to long term longevity, health and vitality when you're able to breathe more efficiently and sleep so much better after the healing process is complete. Could not be more happy with Dr Kuperan and his staff.
Eddy Bee Via Google My Business
The Doctors at My Houston Surgeons have either authored or reviewed and approved this content. Page last updated: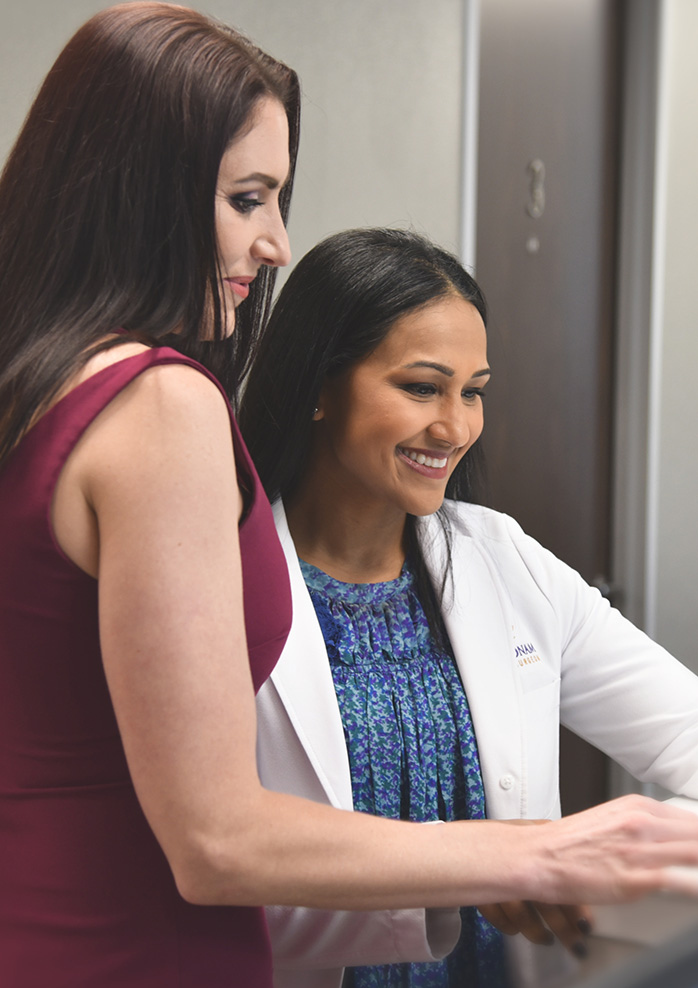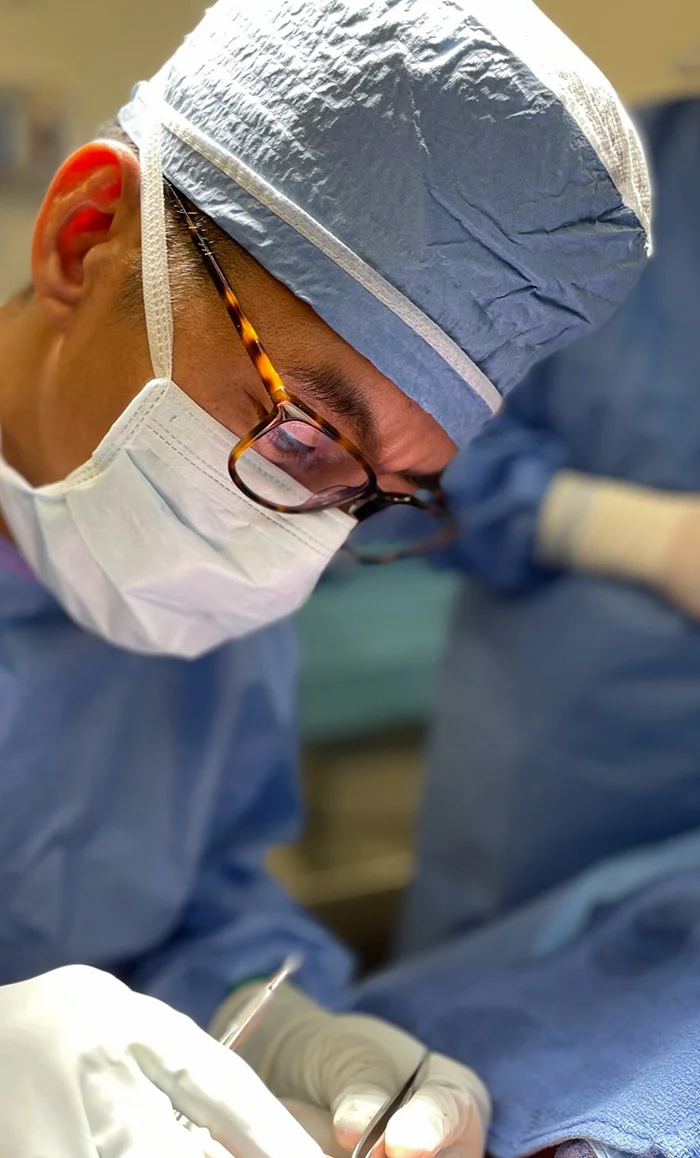 myConsultation
Contact us to schedule a personalized consultation
Our highly-skilled staff and doctors are dedicated to understanding your concerns and providing the best personalized treatment options available. Whether you seek cosmetic, reconstructive, or sinus surgery, our goal is to provide excellence in treatment and compassion in care.