Dr. Reis and his staff are absolutely amazing. Everyone we came in contact with was extremely professional, but kind and compassionate at the same time. Dr. Reis explained the procedure thoroughly and in an easy to understand way. I highly recommend Dr. Reis.
Jeanette Walker Via Google My Business
Great experience with Dr. Reis. He and his staff were responsive and accessible. He made himself available after hours when I needed some additional medical attention. I'd definitely recommend Dr. Reis.
Tonya Jacks Via Google My Business
I cannot say enough about Dr. Reis and his staff! He is so easy to talk to, has an amazing bedside manner, and you can always speak directly to him with any questions/concerns. Maria and Shawna are super wonderful as well, very helpful, kind, and caring. Highly recommend Dr. Reis!!
Tara Albers Via Google My Business
I came to Dr.Reis to get my lips done and they look amazing ! The experience I had was like no other. Everyone was so very welcoming and super sweet. He was very gentle and careful. This was my first time getting my lips done and definitely not the last. Thank you Dr.Reis!
Malaeh Sanchez Via Google My Business
I trust Dr. Reis to do my dysport and he is amazing at fully explaining everything to me and makes the experience painless! I would recommend him to anyone who is looking for a plastic surgeon!
josseline martinez Via Google My Business
Humane, caring, sweet and excellent, as is his staff! My favorite doctor, connected with me in the first appointment. God bless doctors like Dr. Scott!
Mele Florez Via Google My Business
This review is long overdue! I've been singing Dr. Scott Reis' praises for the last year. I had an amazing experience at myHoustonSurgeons for an earlobe repair. From the same day consult availability to the friendliness of the staff, I was thoroughly impressed. Being completely new to cosmetic surgery, I wasn't sure what to expect. Dr. Reis blew my mind with his bedside manner, expertise, and artistry. I couldn't have picked a better doctor. Thanks a million!
Adrianne Smith Via Google My Business
Dr. Scott Reis is one of the few Doctor's that I consider THE BEST! As a Plastic Surgeon he knows & performs his craft well. He is personable, gentle and truly cares about the patient. He takes his time with you and is willing to answer questions so that you are able to understand procedures. I have dealt with some scary medical issues while with him, but knowing he was my Doctor, gave me peace. Dr. Reis always puts the patient first and he respects your time when you go see him. No waiting several hours in a waiting room. Dr. Reis' Medical Assistant, Shawna, gives 110%! Shawna is UBER efficient, personable, and on top of putting patients first. Like Dr. Reis, Shawna will make you feel like you are her only patient. The rest of the staff is always friendly and ready to help as well. I have the utmost admiration and respect for Dr. Reis and his practice. It is first class without being "above anybody." He was an answer to my prayers, and now they feel like an extension of my family.
Teresa Addison Via Google My Business
I would definitely refer Dr Reis and his team. Very caring and professional.
Deja Vu Via Google My Business
Dr. Reis is the best! His incredible knowledge about each procedure I was interested in helped me be comfortable from the start. His staff is so professional, but also very warm and friendly. Will absolutely be seeing him for any and all future treatments. Definitely worth the drive from Austin!
Melissa Tutor Via Google My Business
From the moment I met Dr. Reis and his staff I knew I was in the right place. He listened to what I wanted and gave me exactly that. He is very upfront, honest but most of all caring! Dr. Reis makes you feel like family from the start. His staff is right there to help you every step of the way through the process!!! I could not have asked for a better experience!
sherri abrahams Via Google My Business
Dr. Reis is outstanding! He showed the utmost concern for making sure my breast reduction was exactly what I wanted and he took great care in measuring everything to get the correct symmetry. I could not be more pleased with the outcome. I would recommend Dr. Reis to anyone wanting breast reduction.
Lynn Loggins Via Google My Business
Dr Reis is amazing! My son needed him in an emergency situation and he showed up! I will recommend his services to all my family and friends. Thank you God for Dr Reis!!!
WeloveJESUS3 Via Google My Business
Dr. Reis and his entire staff were professional and had a very welcoming persona from the very first time I stepped into his office up to the day of surgery. Surgery day.... I was as nervous as a long tailed cat in a room full of rockin chairs!!!!! The nurses that took cate of me before surgery and in recovery were awesome!! Great experience. I am 14 weeks post op and feeling great! Thank you Dr. Reis and your entire professional team. Sincerely, Angela Collier
Angie Collier Via Google My Business
My 6 year old son's hand went through a window this summer and wildly enough a piece of glass ended up slicing his bottom lip down to his chin. We called Dr. Reis and he immediately accepted us. It's an understatement to say that he and his team were AMAZING. They got us in super quickly and were incredible with my little one. He got 17 stitches that day and they were removed a week later. It has been several months and the cosmetic result is BEAUTIFUL and EXCELLENT. I couldn't recommend him enough- the office is warm and professional and very convenient. 5 stars all around!
Campbell Ross Via Google My Business
Dr. Reis was my reconstructive breast surgeon. I was referred to him by my oncology breast surgeon after I had a horrible experience w/ another plastic surgeon that I wont name. I highly recommend Dr Reis and his team! He is personable, compassionate & has good bed side manner. His nurse Shawna & coordinater Maria are both amazing as well. They respond on time, they arent rude, and they actually care. Dr Reis did a REALLY GREAT job in my whole reconstructive process & I know it sounds crazy but it was pain free. I personally did not need any pain meds post surgery & I healed well. I am extremely satisfied with my results. Thank you again!
Slangin Apples Via Google My Business
I've been absolutely blown away by Dr. Reis and his staff, every step of the way. From the initial consult to post surgery follow ups, one of the best decisions I've ever made. His assistant Shawna, I cant thank enough. She went above and beyond, dealing with my stubborn insurance company. Thank you for your patience and professionalism. You guys are the BEST!
Brian S. Overland Via Google My Business
Dr. Reis took care of my 3 year old son when he fell and cut open his forehead. His forehead healed beautifully! Dr. Reis was very thoughtful and thorough with every appointment.
alisa bennett Via Google My Business
Dr Reis and his staff are fantastic. Friendly, knowledgeable, professional, and highly skilled. Additionally, the surgical facility adjoining their office was extremely nice and very convenient.
Patrick McClanahan Via Google My Business
I don't think Mr. Reis knows this but he saved my life. 2020 was hell for everyone. What should of been the happiest time of my life having my first girl became a nightmare fast. I suffered from severe postpartum depression and postpartum psychosis. I suffered months silently. Then I started to get these horrible headaches I couldn't explain. I went to one Neurologist who said they were occipital neuralgia. I asked this Neurologist what I should do and he told me "take Tylenol". Tylenol was not even touching these headaches. The combination of PPD and these headaches were too much for me to bear. I typed in Google search "occipital neuralgia". Mr. Reis came up with a review from a women who had surgery and said how he fixed her headaches. I was so desperate to get these headaches to stop. I was to the point I was suicidal with the combination from the two. I ended up in Mr. Reis office. He listened to me and you could tell that this man actually cared for people. Maybe he saw the hurt in my eyes I'm not sure. He immediately got on his cell phone and called a headache neurologist Dr. Blake. He got me seen by her the next day. Dr. Blake has made my headaches stop. If it wasn't for Mr. Reis getting me in to see her I'm not sure how much longer I could of lasted. So thank you Mr. Reis for saving me!
Jacquelyn Gaston Via Google My Business
I trusted Dr. Reis with my first experience receiving injectables, and I was so happy with my results!! He made sure to listen to my concerns and helped enhance my natural beauty. He is very kind and knowledgeable. I would recommend him to anyone who is looking for a Board Certified Plastic Surgeon !!
josseline martinez Via Google My Business
I am so pleased with the knowledge, care, and grace I received at my appointment with Dr. Reis! From the time I entered my appointment to the time I left I definitely felt like he truly was listening to my thoughts and concerns and my results show just that. I can't wait to come back and see him again! If you have the opportunity to come see him & his amazing staff I highly recommend it.
Ashley S Via Google My Business
After my nerve decompression surgery, I have nothing but positive things to say about Dr. Reis and his staff. From the first consultation, it was clear Dr. Reis is not only knowledgeable, but personable and attentive as well. He took the time to hear about my situation, then explain details of the procedure and answer any questions we had. His staff is professional, kind, and always ready to help. Surgery and recovery went smoothly, and I always felt I could reach out at any time with any questions or concerns. I have been very pleased with the results from this procedure, and I would highly recommend Dr. Reis!
Ashton R Via Google My Business
Wonderful services! The entire staff was friendly and patient. Quick, Easy and painless!
NeNe Adams Via Google My Business
I was suffering for almost 20 years with chronic migraine headaches. I try everything I could block nerves injection, Botox, Treximet, I constantly went to the neurology some of the neurology's told me is nothing else they can do for me, I even try therapeutic massage to relax de nerves on my neck shoulders and head. I did breast reduction surgery. But nothing help to reduce o getting better and no to have constantly migraine headaches I have between 15 to 20 migraine headaches at month, I was feeling no good at all I went to the emergency room to many times they put me morphine 4.5 milligrams to taking care my pain and some other medicines to put me to sleep. I was tired of every treatment because nothing make me feel better. Until I meet Dr. Reis who give me a new life and I need to mention Dr. Clay Albrecht who send me to Dr. Reis and he did at decompress nerve surgery on November 15 of 2021since that day I don't have no more migraine headaches this is a miracle.they treatment wonderful the Dr . Reis His assistant Acia and all the staff. I can no be more thankful for my new life to Dr. Reis and Dr. Clay. I will be for the rest of my life so thankful. Thank you Dr. Reis and God bless you. Olga Vasquez
Olga Vasquez Via Google My Business
Dr. Reis and his staff are exceptional. I had a wonderful experience with them from start to finish. My procedure went great and the post care has been extremely accommodating to my schedule. I could not imagine a better and more professional group to work with.
Dylan Marshall Via Google My Business
After many months of searching for the perfect surgeon for my abdominosplasty. I decided to go with Dr. Scott Reiss, BEST DECISION I ever made. Not only was his staff, so friendly and always willing to answer my questions and concerns but Dr. Reiss took the time to listen and achive exactly what I wanted. He did a complete lipo 360, abdominoplasty and breast fat grafting. The whole process was easy and painless. My scar now 5 months later is almost gone and my belly button looks amazing!! Wish I could post pictures but my hubby would kill me🤣Needless to say, I went back and did leg lipo with a 2nd round of breast fat grafting 3 weeks ago. I am completely healed and my body looks amazing! Anxious for the final results. Thank you Dr. Scott Reiss and your whole staff for giving me this awesome body. 100 % recommend .
Jacqueline Mendoza Via Google My Business
Amazing surgeon and always there for checking up for follow ups. Gave me hope and fulfilled the hope to having a more functional leg instead of an amputation. He saved it from infection, did a successful flap surgery after another surgeon failed, and we are working on walking now in physical therapy. I literally cannot thank or say enough good things about him.
Shelby Becker Via Google My Business
Dr. Scott Reis helped me be able to love my body again, i got a breast reduction and i feel so much more comfortable wearing tighter fitting shirts now and a lot of clothes i wasn't able to wear before my reduction. Dr. Reis and his staff were all so nice and attentive, everyone was very kind and helped ease my nerves before my surgery, i felt very comfortable with everyone. The healing process has also been very smooth and everyday i just get so excited seeing my new breasts!!
Gaby Cordero Via Google My Business
I had migraines every day before having a nerve decomposition surgery. I'm 2 months post surgery and have not had one since. Dr Reis and his office have been wonderful through the whole process
Heather Minnis Via Google My Business
Dr Reis and staff all friendly. I had minor work done and am happy with results
Kathy Wolfe Via Google My Business
Mi experiencia con el Dr Reis a sido maravillosa desde la primer cita es un gran ser humano contesto todas mis dudas mi procedimiento fue reconstrucción de cenos después de muchas operaciones por reconstrucción termine con mi trauma que el primer Dr realizó un . Trabajo horrible me dejo muy mal hasta traumada nada profecional al fin encontré alguien que me ayudara Exelente atención desde recepción enfermeras coordinadora y no se diga el mismo me hizo sentir tan segura desde el primer día que confie totalmente en el y veo que no me equivoque se los recomiendo 100% Que dios lo siga bendiciendo
Esmeralda Barragan Via Google My Business
Dr. Reis and his team did a wonderful job preparing Me for my surgery. Everything from where to go to what they would actually do. The professional friendly environment made a difficult day pass with ease. Very happy I took the recommendation to Dr. Reis and myHoustonSurgeons.
John B. Via YPCOM
I had earlobe repair surgery at it went so smooth...I was nervous for nothing ...nice and friendly staff
Jordyn A. Via YPCOM
I have felt absolutely great coming here. Dr. Reis is so good kind and very good at what he does.He has given me a confidence that I have been missing for years thank you and God Bless.
Ashley M. Via YPCOM
I recently had occipital nerve decompression surgery (headache surgery) with Dr. Reis. He and his staff have been excellent. Dr. Reis listened to my concerns and was kind, confident, and extremely capable. His nurses have been wonderful as well. I am already experiencing way less headaches than I had before the surgery and it has only been three weeks. The fact that he didn't shave the back of my head was an added plus. The scars are already just a line, which is pretty impressive, and they are hidden by my hair anyway. His office even accepted my insurance! I should have done it years ago.
Vanessa Chase Via Google My Business
Dr. Reis is a caring and superb doctor. He listens to what you're needs are and delivers excellent results!! I highly recommend him.
loree heckt Via Google My Business
Dr. Reis has it all when you are looking for a doctor. His talent, attention to detail, and truly caring about his patients shines through in all of his work. He works hard and can assist you with any needs or concerns. He genuinely wants you to look great and be happy and confident with your results. I recommend Dr. Reis to all of my family and friends! Thank you, Dr. Reis!!
Jennifer Benefield Via Google My Business
My colorectal surgeon recommended Dr Reis for an abdominal hernia I had developed after multiple abdominal surgeries. Dr Reis' staff were all very helpful polite and available. Dr Reis was very informative and personable. The surgery was a huge success! I am so thankful to Dr Reis and his staff.
Annette Pena Via Google My Business
Dr. Reis is not only an excellent Surgeon, he also has genuine compassion for his patients physical and mental concerns. Dr. Reis goes out of his way to show each patient that he cares about them as a human being that matters to him and his Staff. Dr. Reis should offer lectures on how to not just be a good Surgeon but how to be a Great Surgeon because of the way he combines his wonderful Surgical Skills with his genuine Compassion for his patients and makes himself available for the smallest concern of each of his patients Dr. Reis's staff shows the same compassion, takes time to address and explain each patient's concern as though they were talking to a family member that they love dearly. I make it a practice to be early for everything I do. This has given me the opportunity to speak with many other patients of Dr. Reis's in his Waiting Room. They ALL agree with my opinion of Dr. Reis. I am 74 years old and can HONESTLY say that Dr. Reis and his Staff are examples of TRUE EXCELLENCE in ALL areas of their Practice.
Cassie Hale Via Google My Business
I was immediately impressed with Dr. Reis, his staff, his offices, and the attention to great care I was given. His friendly personality, medical knowledge of my condition, and confidence of the procedure was very assuring and comfortable. I would give Dr. Reis and his Spring Valley office a 10 Star rating if I could!
Drew Walters Via Google My Business
With sweet sensitivity and genuine care, Dr. Reis passionately serves his patients and offers expertise. Beyond my restoration experience, he has shown commitment to pain management and advocating for me to maximize quality of care. Continually amazed, I can personally say his work is impressive and is paralleled only by his pursuit of excellence complemented with a heart of compassion. Words cannot express my gratefulness.
Chrissie West Via Google My Business
Oh my goodness, I do not know where to begin. I honestly cannot thank Dr. Reis enough for the wonderful experience I had throughout my journey. From the very first time I met him at consultation he truly took his time to know me personally and talked to me about the procedure and went through all the details. I was surprised of how long he took just talking to me, knowing how busy he is. His office is wonderful, everyone at the office are so caring and followed up with me several times before the procedure as well as after. I have had a similar procedure somewhere else before and I did not have the same experience what so ever and was left with a horrible scar. I told Dr. Reis that my main concern was the scarring and oh my goodness. It has been around 2 weeks since my procedure and I am not kidding when I tell you that I have to look for it, I do not have a scar what so ever it is unbelievable. The procedure went so smoothly even though I was extremely nervous, Dr. Reis was so amazing and talked to me and even made me giggle throughout and I did not feel the slightest discomfort what so ever. I could not believe how amazing everything was. I am always always going to Dr. Reis for everything, his hands are magic! Thank you so much for everything Dr. Reis you have truly had a big impact in my life.
Tina Kazemi Via Google My Business
I had been waiting for 2 years to have a procedure that my neurologist thought only one physician could perform. I randomly got a call saying to go see Dr Reis and that he would perform my surgery. From the day of meeting him for consult to surgery was just a few days because of the timing with insurance and such, but Dr Reis is such a personable guy and made me feel super comfortable. Occipital Neuralgia is a tough condition and he has the angel hands to get me through this. Thank you Dr Reis for all you have done. I hope this is the end of my 7 year headache battle!
Felicity Johnson Via Google My Business
Dr. Reis is awesome! He is very kind, caring and extremely knowledgeable. He took his time explaining everything that I needed to know about my procedure which made me feel very comfortable. I highly recommend Dr. Reis to anyone who is looking for a great plastic surgeon.
Connie Kuykendall Via Google My Business
I had a very positive experience with Dr. Reis and his staff. Thank you so much!
Linda Weiler Via Google My Business
Best Surgeon in Houston! Highly recommend. Professional and proficient.
Odilia Chavez Via Google My Business
Great experience with Dr. Reis & his team. Very professional and offered expert advice. The entire team was so friendly and made the process less stressful. I never felt silly for asking too many questions. Would recommend to anyone I know. They have made a lifetime patient.
Lauren Graff Via Google My Business
I had an osteoma removed by Dr Scott Reis. He did a great job. I would recommend him to anyone.
Anita Rodriguez Via Google My Business
Dr. Reis did an amazing job! I had skin cancer removed from my face just by my nose. It ended up being larger than I had anticipated. I have friends that don't even notice that anything has been done.
Stephanie Litchauer Via Google My Business
Dr. Reis and staff are both professional and personable. Recently had a CO2 Laser procedure on my face by Dr Reis. The staff went above and beyond to make sure I was comfortable with the process. I appreciated all the information and aftercare to take home with me. The results are amazing and no doubt can be attributed to such an experienced Dr and staff.
Kendra Krasovec Via Google My Business
I have worked in the plastic and reconstructive surgery field for over 18 years. I had the opportunity to work on one of Dr Scott Reis pts, and was blown away with the incredible results he provide for her. She had absolutely the most beautiful belly button I have ever seen. Dr. Reis performed a unilateral mastectomy on this pt and had to do a tummy tuck on her to obtain the skin needed for her reconstruction. I had to take a moment out of my day and say something. Truly Phenominal results!!! Finding a Dr that will take the time to add all the special little details is such an important process. I can assure you, you have found a Gem of a Dr.
Sherah Juarez Via Google My Business
I highly recommend Dr. Reis for any of your needs! The thing I like most about him is that I feel completely comfortable with him. He also did an amazing job on my tissue expander procedure and I cannot wait for him to do my complete reconstruction process! He is really AWESOME on what he does! Pt2: OUTSTANDING! I've never left him feeling unsatisfied. His work is AMAZING & so natural. His ability to connect with me on a personal level since I always feel like an outcast is reassurance in believing Dr. Reis is GODSENT! My personality might be strange but he has my body looking top-notch! Okrrt!
Janky NoneYa Via Google My Business
I love the work that I had done love it love it would Recommend to everyone he is the besy
Jackje Mcgowen Via Google My Business
Dr Reís Excelente servicio muy recomendado y el personal todos muy amables, estoy muy contento con mi resultado.
Jesus Castro Via Google My Business
Dr. Reis is an excellent doctor. I have complete confidence in his skill set as I have been his patient for a couple of years now. He is thoughtful, down to earth, is easy to talk to and he takes his time in answering any questions you may have. Morgan - she is outstanding. She goes above and beyond to make sure the patients are happy and that - these days goes a very long way. Look no further if you need a solid plastic surgeon. At least go in for a consult. You will love Dr. Reis.
Janet Pham Via Google My Business
I have always suffered from larger breast. It was definitely a insecurity issue for me I just felt like they consumed me. I decided to look into a reduction and after tons of research I landed on Dr.Reis from the consultation to the actual surgery he was warm and caring. He gave me the best thing I can ever ask for my body and self esteem has been renewed and I thank him for making it such a memorable happy experience.
Janasia Tisby Via Google My Business
Dr Reis and his staff were excellent. My daughter had her ears done (she is 7). They made her feel very comfortable in the office and with the procedure, that one day after our follow up she said it was her favorite doctor. Not only did they make her; and us, feel comfortable, but Dr. Reis did an EXCELLENT job on her ears! Many of our friends and family have commented on how good her ears look now. Thank you to Dr. Reis and his amazing staff!
Megan Dailey Via Google My Business
I just have to say from the moment I walked in I left welcomed and Dr.reis is just an amazing doctor! He listened to what I wanted and how much back and neck pain I was in due to having large breast and he always made sure he answered every question he never rushed through my visits he took his time! And must I say that my scaring is barely visible, I got the breast reduction and although I was hesitant because of the scaring it would leave me Dr.reis left me none to minimal I was in awe how you took his time during surgery because it showed on my healing and cuts. His nurses are awesome which are available 24/7 which comes in handy when your scared about what to do and not to do after surgery and they were always friendly and made me feel calm. If you are picking between what doctor to go with Dr.reis is your guy I promise you will not be disappointed.
Ashley Mireles Via Google My Business
Dr Reis and his team have been great to work with. I had a mastectomy and reconstructive surgery and they were always available to answer any questions and see me when I had any concerns. I highly recommend Dr. Reis and his team.
Laura Brown Via Google My Business
Dr Reis, thank you and your incredible staff for being, dedicated, thoughtful, and compassionate throughout my process (TRANSFORMATION)🎉! Dr Reis and his staff have gone ABOVE AND BEYOND🏅 their duties ( I've never been so comfortable with a Dr/Staff). Dr Reis and his team have made me feel as though I am FAMILY❤️I am more than pleased with my results (can't get the SMILE 😃 off my face)😍 Dr Reis amazing skills and precise details of pre and post op care and ending results were to the exact point🤩There are not enough words for me to express my gratitude and AMAZING MAKEOVER❤️😍🤩Thank you ALL from the bottom of my heart 💜 for restoring life back into me🤗😌🥰 ....⭐️⭐️⭐️⭐️⭐️
Frankie D Via Google My Business
My father had surgery a few months back and its literally been a roller coaster but I just love how Dr.Reis is so patient w both my parents and omg his staff is beyond wonderful I can say hes done so good w my father thank you so much..
Tee Cantu Via Google My Business
Great experience with Dr Reis. Came in with a large cyst. I was going out the country, Dr Reis worked me into his schedule to remove it the same day. It tok some time but he communicated with me the entire time. Great doctor and great patient care. Wish I could rate with 10 stars. By the way set up follow up appointment to check it out before I left town.
Newt Newman Via Google My Business
Dr. Reis was thorough and professional. He removed a benign cyst on my upper cheek under my eye. I had obvious concerns about scarring, as the cyst was on my face. However, Dr. Reis assuaged these fears after our first visit. The surgery was quick and painless; I was not put under anesthesia. Dr. Reis confidently talked me through his processes during the surgery and made me feel comfortable about his work. My scarring is already pretty minimal only a week removed from my surgery. I highly recommend Dr. Reis and his staff.
Michael Trevino Via Google My Business
The procedure went very well. The staff there took very good care of me while waiting for the procedure, and after they even called to see if I needed anything or had any questions. I definitely recommend going to Dr. Reis. He's a gentleman and a scholar!
Remember Remember Via Google My Business
I have not had any procedures done with Dr. Reis yet, however I wanted to thank him for seeing me during the consultation. Dr. Reis takes time to listen to his patients and recommends only necessary treatment and procedures. I appreciate that Dr. Reis takes great care of his patients.
Elena Via Google My Business
Dr. Reis is absolutely amazing! My son recently suffered a dog bite to his face that was not closing properly. After several appointments with several doctors, he had become a little weary of sitting in an exam chair yet again. Dr. Reis put him at ease with his calming bedside manner and addressed his wounds with care. I am pleased to say that my little one's cheek is almost back to normal again, and the scar will now be minimal. Thank you Dr. Reis!
Ashley Kouzas Via Google My Business
I visited Dr Reis a fre months ago for Fraxel laser. Dr Reis and his staff are so warm and caring. They explained everything to me in great detail and answered any questuons that I had before and after the procedure. Dr Reis was even so kind as to give me his number in case I had any issues over the weekend after my procedure. His office is conveniently located in Houston with plenty of parking and easily accessible to off the Katy Frwy. I would recommend Dr Reis and his staff to anyone looking for a truthful and honest practice that cares about their patients well being above anything else.
Jenny Lynn Via Google My Business
I can not say enough good things about Dr.Reis and his staff. I am 2 weeks out of surgery for chronic migraines/occipital neuralgia and I am so happy to say that I have not had one headache since my surgery. Dr.Reis and his staff (specifically Morgan), worked so hard on my behalf to get my procedure covered by insurance. You will be in great hands if you use Dr.Reis!
Jessica Skelton Via Google My Business
My mother was under the care of Dr. Reis for breast cancer reconstructiive surgery. He provided excelllent care with wonderful results. We are truly thankful for his expertise during the difficult time!
Mike Ng Via Google My Business
He is so amazing!! Please go see him😁
eboni benjamin Via Google My Business
Dr. Reis is a great surgeon, very compassionate, attentive, and a great listener. I had a breast mastectomy and was radiated. At first I didn't know what to expect but the moment I walked into his office I knew I was at the right place.He listened and answered all the questions I had with ease. He explained every detail of my procedures from pre-ops to post-op care with clarity. My overall results was so pleasant. His team and nurse are amazing too! I would recommend him anytime. GREAT MAN , GREAT SURGEON.
Gloria Aka Via Google My Business
The place to go for knowledgably friendly staff. From the front desk to the clinicians, the Doctors and the check out desk. Everyone was very accommodating and made you feel at ease
Steve Palmisano Via Google My Business
Dr. Scott Reis was an exceptional surgeon in his care of helping to remove a lipoma from my back. Initially, I had trepidation and uncertainty due to it being my first surgical procedure. Yet, not only am I very pleased with the results, but the scarring has been very minimal, almost unnoticeable. I would definitely recommend Dr. Reis for any skin care, cosmetic, or other health needs!
Stephan Hardin Via Google My Business
My results with this Doctor were outstanding. I am a man who had a lifesaving operation and a scar that went from my sternum to my waist line; it was also 3.5 inches wide. My abdominal wall was extremely thin which if you pushed your fingers hard enough most likely it would have penetrated. The procedure went well; he was able to rebuild my abdominal wall without the use of artificial devices. I had a Hernia resulted from an ostomy he was able to correct that while closing my abdomen from a reversal on the colostomy. He ensured that my wound was healing correctly and discovered I developed an infection as a result of the closure and not of his coordinated part of the surgery. The infection caused me to stay in the hospital for three weeks and he came by every day to ensure everything was going well. He did not allow for mistakes from the nursing staff and was reactive to their mistakes. I am grateful for his attentive, informative, and absolute quality of care. I would recommend him to anyone and to include my family.
daniel cisneros Via Google My Business
I am very happy with my results from Dr. Reis's cyst removal procedure he performed on my face (very very close to my eye). I have healed extremely quickly with minimal scarring even after only one week. The only reason I rated the waiting time so low is due to a scheduling conflict with another surgeon and some miscommunication. This is NOT Dr. Reis's fault, as he was not my initial surgeon. He actually stepped in to save the day at the very last minute and I could not be more thankful that he was able to do so for his practice. The staff was extremely attentive and understanding. I highly recommend Dr. Reis! My surgery was quick and painless. Overall, I am very pleased with the results and the product he recommended to heal my scarring and will return for any future procedures I may need.
Blair Snyder Via Google My Business
Took me on time and surgery looked great and was painless. Great visit.
Morgan Pickens Via Google My Business
Dr. Reis is a good dude and a better doctor. He really knows how to handle his patients and their expectations. I also like that the office has a very modern approach to surgery and healing. For example, they prescribe taking multivitamins etc before and after your surgery, as well as being individualized about what's going on after your surgery. They also use an app to track prescriptions, appointments, and records. All the nurses are very nice and listen to you and take action. They remembered stuff that I forgot to follow up on. Also, Morgan the Patient Coordinator (I think that's her title) was very helpful and made sure I got discounts wherever I could. The biggest thing all around was that they listen to your concerns and DO SOMETHING. They don't just brush you off and treat you like you dont know what you're talking about. And thanks to that I've had a smooth surgery and exceptional healing!
Jonathan Buchanan Via Google My Business
Dr. Reis is an incredible doctor. I had a wonderful experience and would highly recommend him to my friends and family.
loree heckt Via Google My Business
My surgery was one of the best decisions I've ever made. Dr. Reis and his team was thorough in explaining what to expect from beginning to end. And my results make me excited about the way I look and feel. I'm more confident in my own skin. I am forever grateful.
Larquette Washington Via Google My Business
Our experience with Dr. Reis was excellent from the first Visit all the way up to the day Of my daughters procedure. At the age of 12 she had some worries but those were all cleared as she gained confidence and reassurance from Dr. Reis himself. I was impressed with his commitment and follow up phone calls as needed as well as his understanding from a fathers perspective that was applied. I will definitely recommend him to friends and family in the future!
Alex Saldana Via Google My Business
My 8 yr old had a small "spot" (mole) on his face that he has wanted off for about 2 years now. This year he decided he was old enough to go through the removal process. We spoke with a dermatologist, who advised us of our options and recommended Dr. Reis as yet another option/opinion. We met with Dr. Reis and I immediately appreciated how he listened to us and how honest he was (while also not being pushy) when discussing my son's options. I can't say enough great things about our experience with Dr. Reis and his staff - from working with Morgan on scheduling and payments; to Nurse Monica who was so sweet, caring and understanding of both our nerves and of course, Dr. Reis - from our consult to the procedure, he was amazing. I appreciated the fact that he spoke to my son, rather than down to him, he made sure he understood what would be happening and went above and beyond during the procedure to make sure he was laughing and comfortable (even fitting him with a makeshift blindfold to help ease his nerves)! The best part was after we were done, while awaiting our wound care instructions, my son looked in the mirror, turned to me gave me the biggest hug and said "thank you momma". It was a such a small procedure but it meant a lot to my son and those words meant so much to me as a mom because they confirmed that we did the right thing by choosing Dr. Reis and going forward with the procedure. Thank you so much Dr. Reis & staff!
Samantha Reiter Via Google My Business
So quick and precise. Highly Recommended. My scar is so insignificant
Nertski :/ Via Google My Business
What I love about Dr. Reis, first of all very sweet and personable. Great listener, answers whatever questions you may have and takes his time to explain in detail your best options in a cost effective manner ~ definite plus! Highly Recommend :)
Mary Bolanos Via Google My Business
I was so comfortable during my procedure that I actually started dozing off. I wasn't concerned about the outcome at all one I felt the attention I was getting. I knew everyone was handling everything with care and if you need anything done at all you'll be in wonderful hands.
Vincent Campos Via Google My Business
Dr. Reis is passionate about his expert craft & equally as passionate in offering care. He is personable & dedicated to pain management, advocating for his patients as well as striving for excellence while showing a high level of compassion & concern. I highly recommend his medical services.
Chrissie West Via Google My Business
Dr. Reis removed a cyst from my daughter's leg. She was extremely nervous for the procedure. Dr. Reis and his team did a wonderful job of explaining the process and making her feel comfortable from start to finish. The incision is healing beautifully.
Erica A Via Google My Business
Dr. Reis and all staff were awesome and I'm so happy with my earlobe repair. Definitely recommend
tyler mccombs-aiken Via Google My Business
The staff was great. The nurses were very helpful, understanding, and on point. Dr. Reis is a phenomenal plastic surgeon, very skilled. I enjoyed every visit, felt right at home. Dr. Reis is a good guy, and very easy to talk to.👍👍
Preston Moore Via Google My Business
Dr Reis listened to my concerns and didn't make me feel rushed like some doctors do today. I definitely recommend.
Chasity Mourey Via Google My Business
I love my results, Dr Reis and the staff are so very professional. I would recommend their team to everyone.
Miranda Guzman Via Google My Business
I get Botox from Dr. Reis about 3 times a year as a preventative measure for wrinkles and have always been very happy with the results. In addition, I recently got some filler around my smile lines and upper cheeks and was also very pleasantly surprised and happy with the results. He takes a more conservative approach with injections, which I really like, because I want my face to look natural. He also explains, in detail, why he is injecting you in certain places and how that will affect the muscles. I always feel very comfortable and confident in his care because he knows exactly what he is doing. I have sent many friends (all in their low to mid thirties) to Dr. Reis for Botox and fillers and they have all been very happy with the results. I 100% recommend Dr. Reis.
Karissa Jones Via Google My Business
The Doctors at My Houston Surgeons have either authored or reviewed and approved this content. Page last updated: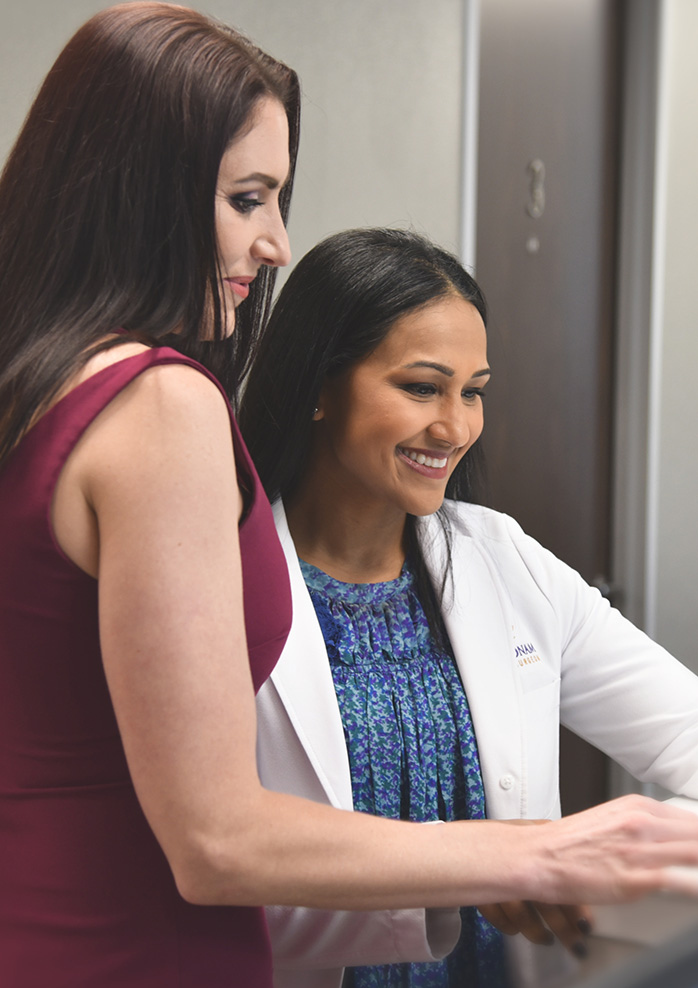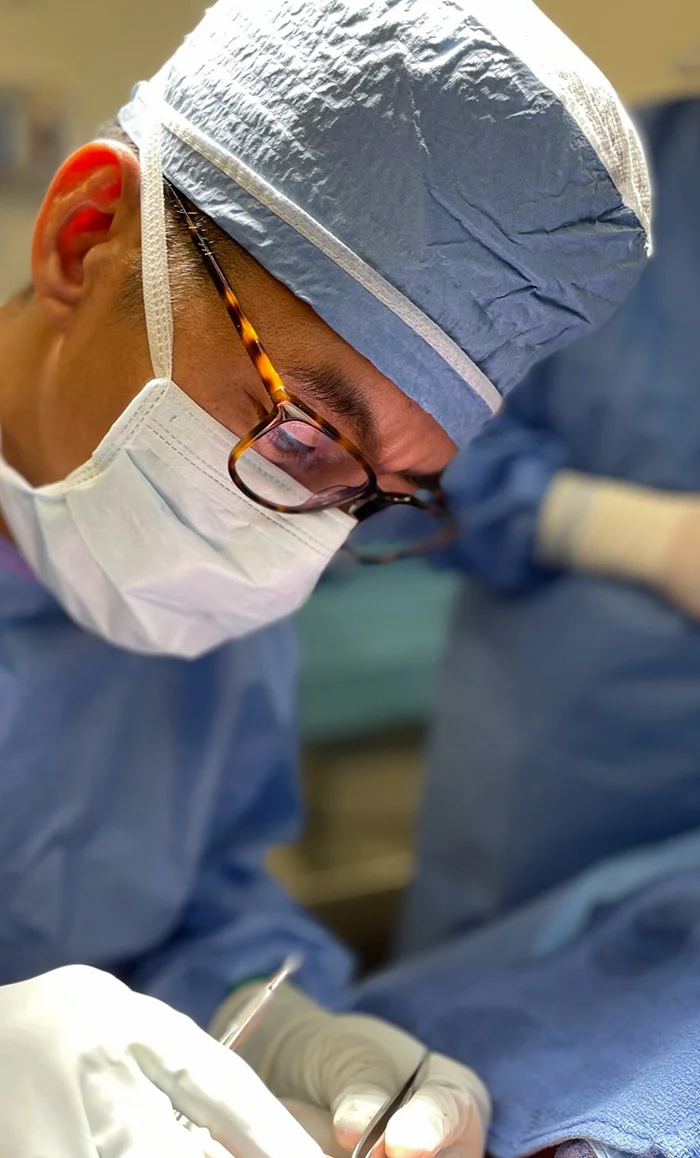 myConsultation
Contact us to schedule a personalized consultation
Our highly-skilled staff and doctors are dedicated to understanding your concerns and providing the best personalized treatment options available. Whether you seek cosmetic, reconstructive, or sinus surgery, our goal is to provide excellence in treatment and compassion in care.